Description
The Dutch Game Marathon is a charity stream for the benefit of "Alzheimer Nederland", which is the Dutch Alzheimer foundation.
---
Concept
We will be doing a 56-hour long gaming marathon from the 20th to the 22nd of September, during the weekend of World Alzheimer's Day, in order to collect donations for Alzheimer Nederland. All footage will be broadcasted live on Twitch. During the stream we will be playing games with a loose thematic connection to Alzheimer. Furthermore, during the stream, gaming merchandise will be auctioned to the viewers to attract additional donations. Finally, we invited popular Dutch streamers and influencers to join us during the stream. Donations can be made through our Alzheimer NL page.
---
Motivation
Almost everyone knows someone in their environment that is suffering from dementia (in the Netherlands alone already over 270.000 people suffer from dementia), which can often lead to heart wrenching stories.
To us, the following anecdote from Sander was the deciding factor for the foundation of our charity stream.
"Can't you just grab a hammer? I'm sick of it. This isn't a life worth living.", she said for the 4th time that afternoon, while staring out the window. A few seconds later the conversation went back to coffee and cookies. In those brief moments of clarity I felt worse for her than during her bouts of forgetfulness.
The above quotation belongs to a great-aunt of mine, but thankfully not all stories involving dementia are this horrible. For example, my grandpa spent his final years in a nursing home surrounded by loving caregivers. Despite his dementia he could still enjoy the love and attention that he was given.
The mission of Alzheimer Nederland is to help cure and prevent dementia, so that stories like my great-aunt's will eventually no longer occur. Until this can be achieved, they also try to make the lives of people suffering from dementia as pleasant as possible. That such a life is possible has been shown to me by my grandpa.
This charity stream feels like our best way of supporting Alzheimer Nederland. To quote the title of one of their beautiful awareness videos: "I don't want this to be forgotten."
---
Logo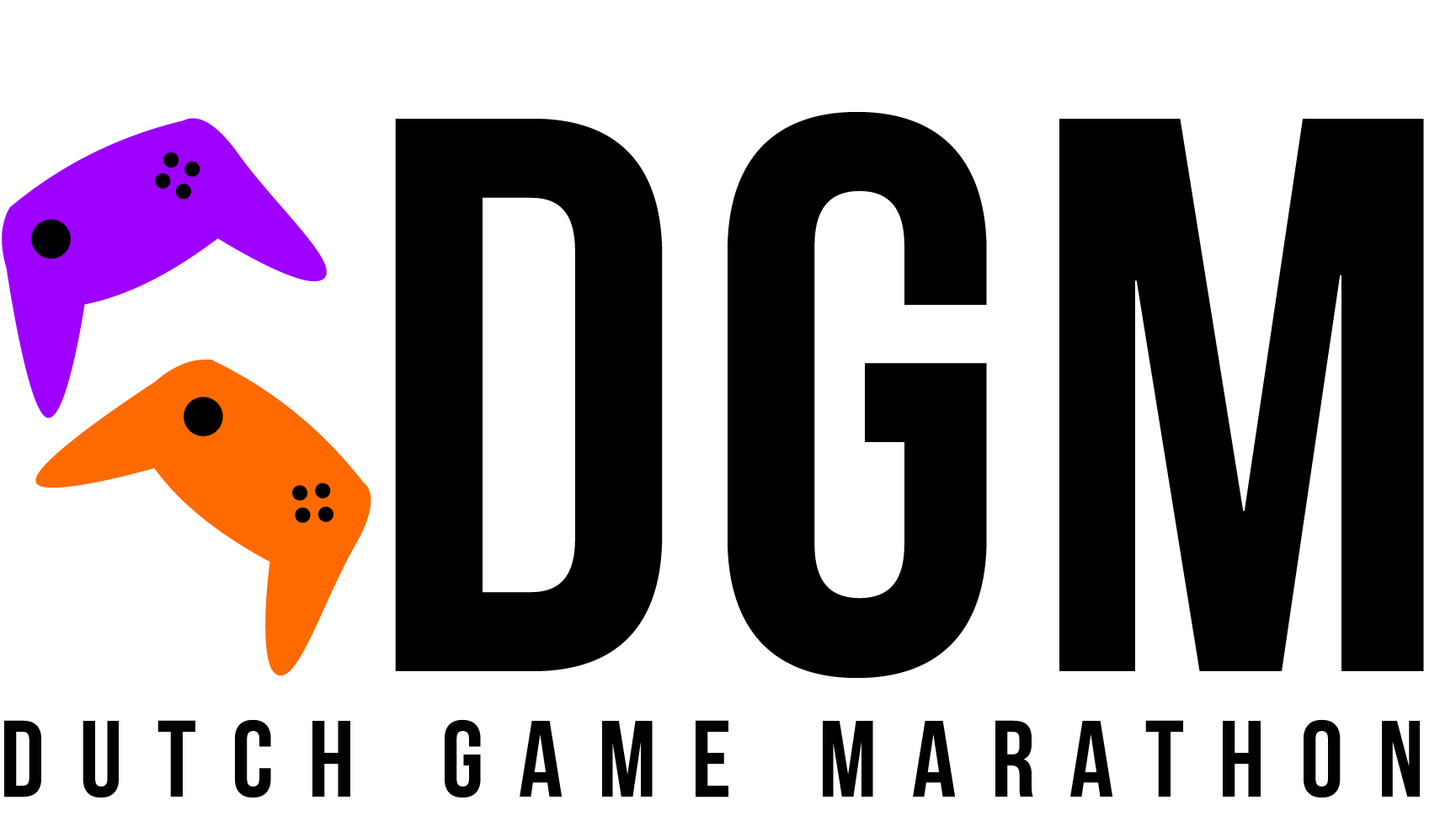 Logo made by Jacqueline Edwards Design.
---
Video
Vdeo made by Christa Hiddinga Productions Video is in Dutch. English subtitles will be provided at a later date.
---
Mission and vision
Mission
Dutch Game Marathon is committed to making the world a little better. The team does this by involving all aspects of games: the social aspect, the creative aspect and the perseverance that goes with games. By combining all of this, the team creates a cozy atmosphere that is committed to a good cause.
To us, the Alzheimer's Foundation is close to our heart - and that's why we try to help this foundation through the stream.
Vision
We at the Dutch Game Marathon believe that video games bring the world closer together. Through video games, we can see whole worlds created, friendships forged, experiences shared... There are many good things coming out of the gaming community and much more good can be done with it.
---
Team
Cengizhan:
Cengizhan is one of the two founders of the Dutch Game Marathon and is a 25-year-old master's student in Computer Science & Engineering at Eindhoven University of Technology. He is a familiar face at the university because of his past at various organizations (shout-out to Wervingsdagen and Stukafest Eindhoven) and is often found in Eindhoven.
Nevertheless, he also enjoys traveling through the country looking for nice spots, fun people and is always ready for adventure. In his spare time he likes to keep himself up-to-date with the latest news about the video gaming and gadget worlds and likes to work on (somewhat random) goals that he has set for himself.
By setting up DGM together with Sander, Cengizhan not only wants to fight dementia, but also wants to show the power of the gaming community to the outside world. Cengizhan takes on the role of Guest Relations and Website Coordinator, so if you have questions that should be answered by these roles, don't hesitate to ask Cengizhan!
Sander:
Sander is a 23-year old PhD student in Artificial Intelligence at the Eindhoven University of Technology, where he spends his days drowning in papers and writing (sometimes hacky) code. Whenever possible he focuses his work on imaging problems that can benefit society, from cancer detection to roadside bomb spotting to littering detection (because not all work can save lives).
In his free time he loves listening to music and playing along on either his electric guitar or electric drum kit (hopefully avoiding the wrath of "real" acoustic drummers). Writing songs is a great pastime too if inspiration strikes.
By setting up the Dutch Game Marathon together with the soon-to-be-introduced Cengizhan Can, Sander hopes to make a difference in the fight against dementia, in memory of his grandpa. Now that DGM is live, he will be moving to the role of public relations, with the hopes of attracting as many viewers and potential donator to the event as possible!
Robin:
In his spare time, Robin likes to game, read, travel (both in and outside the Netherlands), writing blogs and poetry, and chill with friends. Also at this moment, he has two goals for this year:
To be able to read and speak Japanese (A1/A2)
Reading one book per month
Finally, he hopes to cross out some travel destinations from his list this year.
With a background in International Business the roles of External Affairs, PR and Treasurer were natural choices due to the courses he followed in the past. Robin hopes that with the Dutch Game Marathon he can show to the outside world that gaming can bring people together for charity. Aside from that he also wants to set up a spotlight for both the Dutch games industry as well as indie studios.
Criss:
Criss is a 24-year-old medical biotechnology master student at the Wageningen University and Research Centre. In his free time he composes and engineers his own music, which is generally of the punk/rock/metal persuasion. He plays guitar, often too loud, if his roommates are to be believed. Besides that he is orienting himself in the wonderful world of mixology (which has nothing to do with music) and he also plays a lot of games.
He followed the example set by Cengizhan and Sander and decided to apply himself in the battle against Alzheimer's. This way he hopes to combine two very solid aspects: making the world a better place, and playing videogames.
Boris:
Boris Boekelman, 26 years of age. At the moment he is employed as an advisor in car insurances, and is also a part time student Learning and Development in Organisations. His job is in Hilversum, his study in Nijmegen. Living? He has found his place in Utrecht. All the time spent in trains is killed by reading books.
When it comes to hobbies, obviously he uses Netflix (although he prefers going to the cinema!), and obviously he loves doing fun stuff with friends. He also spends quite some time in the kitchen, preferably cooking for other people.
Weirdly enough, Boris isn't even that big of a gamer. His drive to be a part of Dutch Game Marathon comes from his drive to help other people. This is clearly seen in his study, both his former and his current job, and his ambitions: he wants to make sure the right people get to right place. The fact that he can do a project like this with some of his closest friends, is only an added bonus.
Rik:
Rik is a 25 year old software engineer that spends most of his time working on front- and backend development of web applications for a electronics assembly company in Best. Before working here, Rik completed a bachelor in Software Engineering and a minor in Game Design at Fontys University.
Rik has always been a gaming geek at heart. From the moment he started playing Mario at a young age on the SNES his parents bought him, his interest in computers and gaming has grown.
In his spare time, Rik loves to spend time watching movies, shows and Twitch streams, and has recently been experimenting with 3D printing. One of Rik's future goals is to start streaming games on Twitch again which tied in nicely with the question whether he wanted to help with the gaming marathon.
Besides his motivation in wanting to start streaming again in the future, Rik also wants to show what the gaming community can do when it combines its strength. Like other members on the team, Rik has come in contact with the subject of dementia through family members that suffered from dementia.
News articles
Links in English: Cursor. More news articles can be found on the Dutch version of this page.
---
Extra links
Cengizhan Can on Twitter
Personal Twitter of Cengizhan Can: @CengizMan
Robin van Tellingen on Twitter
Personal Twitter of Robin van Tellingen: @RobinotX
Criss van de Wouw on Twitter
Personal Twitter of Criss van de Wouw: @CrissvandeWouw
Boris Boekelman on Twitter
Personal Twitter of Boris Boekelman: @BorisBoekelman
Rik Somers on Twitter
Personal Twitter of Rik Somers: @Rik_Somers
---
Contact
Inquiries
info@dutchgamemarathon.nl
Twitter
twitter.com/gamemarathonnl
Facebook
facebook.com/gamemarathonnl
LinkedIn
linkedin.com/gamemarathonnl
Website
dutchgamemarathon.nl
---
Based on Presskit() | KVK number: 75209314 | Policy Plan | RSIN: 860186763 | Beloningsbeleid